History

Walter and Elizabeth Ward had nine children as they scratched a living from the black earth of North Dakota in the '40s and '50s. Though poor, the Wards were rich in love, fun, and music, and Annie Ward and her older sisters began singing publicly when she was five years old.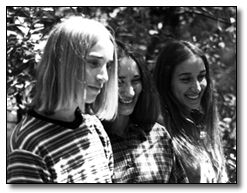 They performed at school openings, country church picnics, and farm co-op meetings, but it was the Catholic Church that made the biggest impact on Annie's musical development. "I loved the church," says Annie. "I loved to sing in the choir and to sing those Latin masses. It filled me with a tremendous sense of awe."
But something was wrong with Elizabeth. Dizziness, slurred speech, and the occasional seizure signaled trouble ahead. After being misdiagnosed for more than a decade, their mother, Elizabeth, died from a brain tumor in 1968. Her death had a particularly significant effect on Annie, who was investigating the religions of the world, trying to find the reason for her own existence, when the transitory fact of life was brought squarely home by her mother's passing. A few months later, Annie's boyfriend, Buck Herring, became born again and shared the truth of salvation with her, telling her that Jesus offered her forgiveness through His blood, and new birth through His resurrection. He also gave her a copy of the modern English New Testament, Good News For Modern Man. The truth took hold in Annie's life a few weeks later and she quit the musical group she was singing in, surrendering her life to the Lordship of Jesus Christ. "All I know is that I love Jesus, and Jesus loves me," was Annie's first public testimony. Simple words of a brand new faith.
Buck and Annie were married in early 1969 and the Lord began to teach them much about serving Him. An old upright piano became a schoolroom for Annie as the Lord began to teach her to play and receive songs from Him, while Buck was learning to be a recording studio engineer. The next major event leading to the birth of The 2nd Chapter of Acts was the death of Annie's father, Walter, from leukemia in the late summer of 1970, just two years after Elizabeth's death.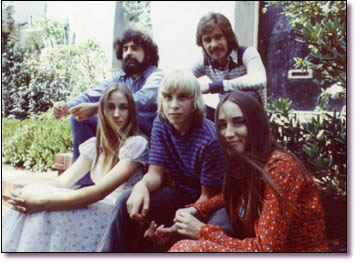 Following their father's funeral, it was decided that Nelly, 14, and Matthew, 12, now orphaned, would go to live with Buck and Annie. The Herrings had been married for less than a year and a half when the teens moved into their home. The trauma of losing both of their parents and becoming part of a new and different family situation took its toll on the two younger siblings. Nelly quickly credits "the grace of God and the lubricating oil of the Holy Spirit" as the secret to surviving the frequent family frictions. The love of the Lord became more and more real in the midst of the new relationships, eventually bringing Nelly and Matthew to their own commitment to Jesus.
Annie continued to receive songs at her piano, but now Nelly and Matthew would join her after school in spontaneous musical expression that began to solidify them musically and spiritually. Their voices blended together in smooth harmonies, so tightly, and naturally. "We were just singing to the Lord," says Matthew, "and it was a way of releasing our pain. We had gone through something tragic, but we knew there was a light at the end of the tunnel."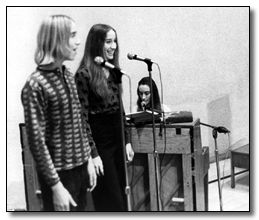 Friends who heard them sing began to tell their friends and soon there were requests to sing at churches, Christian coffeehouses, and such. But that was the limit. "The last thing we wanted to do was to sing in front of people," " We were just so nervous" explains Annie. "The good part was that it forced us to rely on the Lord."
The first recording was not intended to be a "group" record, but a song written by a friend of Buck's who wanted to record it. Instead, Matthew was selected to be the singer and belted out the vocal to a song called "Jesus Is" on his 13th birthday with his sisters and some friends singing the background parts. The song caught the ear of Pat Boone who arranged a contract with MGM records, and The 2nd Chapter of Acts was born.
Several concerts into their first tour, someone approached Annie and said, "We're really sorry we didn't applaud, but we've never heard music like that before!" As Nelly reflects: "One of the reasons people didn't applaud was because we weren't singing songs about Jesus, we were singing to Him. When people recognized that, they sensed His Spirit. They could see Jesus, and they fell in love with Him."
Besides the spiritual power of their music, other factors catapulted "Acts" into the public spotlight. First, touring with 'New Christy Minstrel', Barry McGuire exposed them to a built-in audience each concert. Second, "Easter Song" was getting airplay on secular radio stations as well as the few contemporary Christian programs that existed.
Hear the bells ringing
They're singing that we can
Be born again
This short two-minute twenty-second song caught on almost immediately as the "Hallelujah Chorus" of a generation who found in Jesus the answer to their search for peace and love.
Joy to the world!
He is risen!
Hallelujah!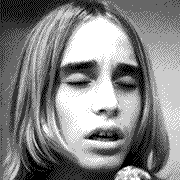 By 1973, they had entered the music ministry full-time. These early experiences established the group's identity with the body of Christ who eagerly welcomed their fresh 'Jesus music' expression of faith. This laid a solid foundation for what has become a hallmark musical ministry and established The 2nd Chapter of Acts as one of contemporary Christian music's pioneers.
Prayer was an important key to the success of "Acts." Each morning, in one of their hotel rooms, the group would gather to read a brief passage from the Bible, to share from their hearts, and to pray together. "One of the reasons we did this in the morning," says Annie, "was because by the time we got to the concert hall, there was so much to do and too many distractions. Then right before the concert, we'd have one more short time of prayer¾ a 'flare prayer' we called it. "Because of their emphasis upon worship and exalting the name of Jesus, "Acts" often found themselves thrust into spiritual warfare, even before the concert began. But God had been powerfully evident through each concert, each crisis, and each confrontation with the enemy. Each concert was marked by a real sense of joy and each of these gatherings seemed to become a rallying point where young believers could celebrate their newfound faith in Christ.
The group recorded over 16 albums. Annie was the primary songwriter of their original songs, but Matthew and Nelly both contributed from time to time. Their songs were unique; the voices and harmonies angelic, and their message distinct and clear. As part of this recording effort, they captured three 'live concert' recordings, one notably with guitar virtuoso Phil Keaggy called How The West Was One, which was part of an 18-city concert tour, which introduced Phil's considerable talents to a West Coast audience. Another significant recorded effort by the group was The Roar Of Love, an album which captured the C.S. Lewis allegory The Lion, The Witch, and The Wardrobe. This simple childlike story captured the imagination of Annie who began an eight-year process of writing songs for the project. It remains to this day one of the group's most loved efforts. Also, the group recorded a very popular series of Hymn albums capturing the power of tradition and bringing it to a new generation.
After 16 years of touring and over 1000 concerts later The 2nd Chapter of Acts prayerfully retired as a group in 1988, but not before doing a "farewell" tour. In every city, they sang to packed auditoriums and the Spirit of God moved mightily in each concert. As Matthew remembers it, "We finished our final concert in Houston, Texas, and the 7500 people attending rose to their feet and clapped and clapped. Nelly and Annie were crying and I was losing it. I think it had finally dawned on us: This is our last concert. This is it! We weren't tired of ministering to people or anything. It was just God's time for something new." The 2nd Chapter of Acts was one of the very few Jesus-music groups whose music was unique; it did not have a parallel in pop music, but their message and ministry still speak loud and clear today.