Articles

History

Music Store

Guest Book

Music From Our Friends
To order call 800-964-0439

Questions About Your Order?

Home
Music From Our Friends
The first of a new series of music and video releases from friends of
2nd Chapter of Acts.

Keith Green
Your Love Broke Through: The Keith Green Story
The long awaited documentary of a life that has challenged and inspired countless lives. Told by the people who knew Keith best, this biography is a story of God's love impacting a generation by living a life without compromise. Because Keith's message was really a simple call to live out the Gospel, it remains as relevant today as when he first sang and spoke it.
(Available on DVD and VHS)
Run time: 63 minutes

2nd Chapter of Acts uses the Exploration Films shopping system. Press the "Continue Shopping" button to return to 2nd Chapter of Acts after adding items to your cart.

The Ministry Years
Volume 1 of 2. These two volumes contain every song Keith ever recorded. Some of the titles are unavailable on any of the other releases.
Each volume contains over two hours of music and a booklet in which Melody Green shares about Keith's life and music.
Keith Green: The Ministry Years Vol. 1 (1977-1979)
Double CD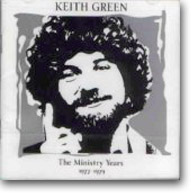 1. Because Of
2. How Can They Live Without Jesus
3. Walk And Talk
4. Run To The End Of The Highway
5. Your Love Broke Through
6. The Victor
7. Thank You Jesus
8. The Prodigal Son Suite
9. Stained Glass
10. Go To The Hungry Ones
11. Love With Me (Melody's Song)
12. You Put This Love In My Heart
13. There Is A Redeemer
14. No One Believes In Me Anymore (Satan's Boast)
15. On The Road To Jericho
16. You!
17. When I Hear The Praises Start
18. Asleep In The Light
19. He'll Take Care Of The Rest

20. Make My Life A Prayer To You
21. Easter Song
22. When There's Love
23. The Battle Is Already Won
24. Pledge My Head To Heaven
25. My Eyes Are Dry
26. Song To My Parents (I Only Wanna See You There)
27. Trials Turned To Gold
28. Dust To Dust
29. I Can't Believe It
30. To Obey Is Better Than Sacrifice
31. Soften Your Heart
32. I Don't Wanna Fall Away From You
33. Here Am I, Send Me
34. I Can't Wait To Get To Heaven
35. Dear John Letter (To The Devil)
36. Rushing Wind
37. Don't You Wish You Had All The Answers
38. Altar Call
---
Keith Green: The Ministry Years Vol. 2 1980-1982
Double CD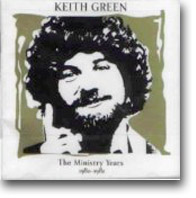 1. You Are The One!
2. A Billion Starving People
3. If You Love The Lord
4. When I First Trusted You
5. O God Our Lord
6. Grace By Which I Stand
7. Only By Following Jesus
8. The Sheep And The Goats
9. The Lord Is My Shepherd (23rd Psalm)
10. Unless The Lord Builds The House
11. Summer Snow
12. Lies
13. Open Your Eyes
14. I Will Give Thanks To The Lord (Psalm 9)
15. Romans VII
16. Keith's Piano Prelude
17. Create In Me A Clean Heart
18. So You Wanna Go Back To Egypt
19. How Majestic Is Thy Name
20. Scripture Song Medley
21. Until That Final Day
22. Cut The Devil Down
23. I Want To Be More Like Jesus
24. The Promise Song
25. Jesus Commands Us To Go!
26. Holy, Holy, Holy
27. Jesus Is Lord Of All!
28. Oh Lord, You're Beautiful
29. Keep all That Junk To Yourself
30. Draw Me
31. You Love The World (And You're Avoiding Me)
32. Lord I'm Gonna Love You
33. Glory Lord Jesus
34. Song For Josiah
Articles

History

Music Store

Guest Book

Music From Our Friends
To order call 800-964-0439

Questions About Your Order?

Home
A FREE GIFT JUST FOR SIGNING UP FOR OUR ANNOUNCEMENTS LIST
The informative and inspiring article "The Frame Never Out-Did the Picture - The 2nd Chapter of Acts Story" which follows siblings Annie, Nelly, and Matthew from childhood to the birth of "2nd Chapter" to "Where They Are Now." This article is yours FREE when you sign up to receive 2nd Chapter Of Acts news, product specials and announcements. Just enter your email address below and click subscribe now.
After you subscribe your complimentary copy of the article will be emailed to you.
All fields marked with a * must be completed.
Click here to unsubscribe from our announcement list.
Do you enjoy watching videos with your family?
Here is a web site we really love that offers videos the whole family can enjoy.
Exploration Films by Reel Productions
Copyright © 2000-2008 - 2nd Chapter of Acts
Website Design by Reel Productions, LLC

Website Production & Promotion by PageCafe Internet Consulting, Inc.