The Roar of Love
Are You Goin' To Narnia?

Lucy's Long Gone

Tell The Truth

Turkish Delight

Son of Adam Daughter of Eve

Christmas Where Are You?

Gifts From Father Christmas

Aslan Is Killed

The Roar Of Love

I've Heard The Stars Sing Before

He's Broken Thru

Witch's Demise/Get It Into Your Head

Something Is Happening In Me

White Stag
The Lion, the Witch and the Wardrobe
From the Chronicles of Narnia by C. S. Lewis
Radio Theatre 2 CD Set
Price $29.00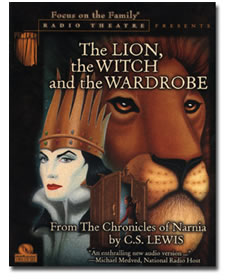 This extraordinary world - Narnia - is a magical land situated somewhere between the lamppost and Cair Paravel on the western sea. But don't try to find it on a map, for it won't be there. Which isn't to say that Narnia is a figment of one's imagination. Oh, no, it's much more than that. It's a place you'll more likely find in your heart, as you embrace its wonders with your spirit.

Journey to this place of awe with Lucy, Edmond, Peter and Susan where fauns frolic, trees talk and the civilization is remarkably civilized --except for the evil White Witch, who will stop at nothing short of total conquest.

Now a major audio presentation from Focus on the Family Radio Theatre, The Lion, the Witch and the Wardrobe first appeared in C.S. Lewis' mind when he was only a teenager --years before pen actually met paper.
Find out more about this Radio Theatre 2 CD set.
NARNIA SPECIAL
The Perfect Pair Special only $29.00.
THE ROAR OF LOVE - 2nd Chapter of Acts - (retail: $15.00)
THE LION, THE WITCH, AND THE WARDROBE
and radio theatre two CD set ( retail $19.00)